Signature Series: The Rise of Emotional Intelligence for Humanity
October 23, 2018 @ 3:30 pm

-

5:00 pm
Marketing leaders and aspiring leaders should join us for this AMA NEW Signature Event.
Emotional Intelligence (EQ) is the ability to effectively manage our own emotions and the emotions around us and it is quickly becoming the #1 competency for community leadership, building relationships and inspiring in the 21st Century. The digital transformation is driving opportunity in the marketplace for leaders to create the human-connection experience, and most importantly, a legacy. All of humanity craves a social fabric that values and is committed to Emotional Intelligence. With the rapid acceleration of technology, automation, digital media, distractions, change and stress—Emotional Intelligence is even more crucial for building healthy, trusting relationships both personally and professionally. Real human-connection is the future for our own happiness and well-being and those we lead. Bill Marklein inspires, entertains, challenges thinking and will get you excited about using your unique human-only skills of awareness, adaptability and empathy for your continued success!
Event Sponsor:

About the Speaker:
Bill Marklein founded Employ Humanity LLC to inspire Emotional Intelligence in workplaces across the world. Marklein has his Master's Degree in Corporate Communication from the University of Wisconsin-Whitewater with his primary research on Emotional Intelligence (EQ) and human connection. A specialized expertise for Emotional Intelligence in the business community was developed with his entire professional career spent working for small and large chambers of commerce, most recently as Community Relations Director for the Sheboygan County Chamber (WI).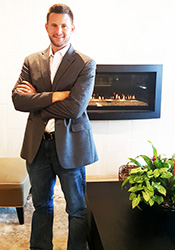 Marklein has presented nationally coast-to-coast from San Diego to Savannah on Emotional Intelligence and has trained healthcare administration on the topic at one of the largest independent health care facilities in Wisconsin. In Savannah, Marklein was a featured speaker on Emotional Intelligence at the American Chamber of Commerce Executives National Convention. Marklein has trained and developed the gamut from young professionals to educators to the C-Suite across all industries. Learn more about the movement at www.employhumanity.com